Paris was simply my biggest and grandest dream. And I ate it up. I love that city.
Our first day there was not a good one. The overwhelming sense of being in a new place that I thought would happen in London saved itself for the train station in Paris. Gare Nord is kind of the most depressing place. It's pretty much the Regency Mall of Paris. There were so many stair. So many. Our luggage didn't float behind us on wings of a cherub, instead we dragged them up and down and up and down until finally arriving at our homestead. BUT it was worth it yet again.
We had the immense pleasure of staying on the Ile de St. Louis,
AirBnB
proving fab once again.(Stole these pics from there because I couldn't get a good one to save my life. )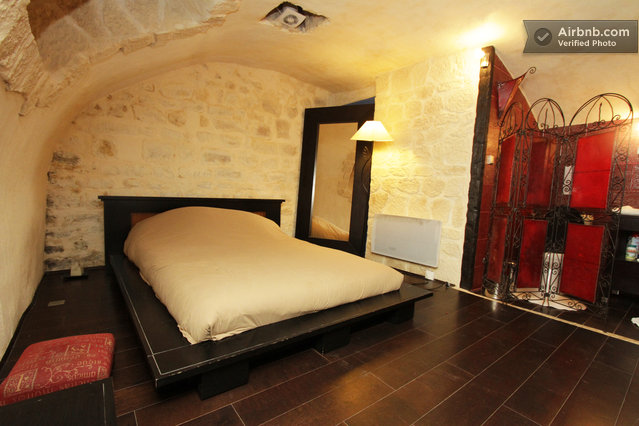 The most remarkable thing about Paris to me was the fact that it really DOES feel like the movies. Yes, there's more trash and the Metro smells, but there is truly a gorgeous little cafe on every corner. There was always someone playing the accordion. The Louvre was huge, the Mona Lisa sly and the gelato plentiful.
There were so many tweens taking selfies with the Mona Lisa. It was awesome.
On a recommendation we went to this suuuuuper touristy fondue place in Pigalle. They serve all the drinks in baby bottles! We were not hip enough to know why. By the middle of the meal all these chairs were filled. You had to step over the table to sit down in the booth.
The Catacombs had us waiting two hours before we could go in. It was really cool, very eerie. I of course had to touch a few skulls. They were surprisingly smooth, like a river rock.
We had at least one treat a day in Paris. And everything EVERYTHING was the best. Have you heard of Specaloos? Its sort of lie nutella, but instead of chocolate hazelnut it tastes like graham crackers. I became quickly obsessed with it. This is Specaloos and chocolate gelato.
Jared was a daredevil and got steak tartare one night. It tastes like creamy beef with a smack of worcestershire sauce. Weird.
I am currently dreaming of this pizza covered in cured meats.
Suffice to say, I can not wait to go back to Paris!